Shops and Places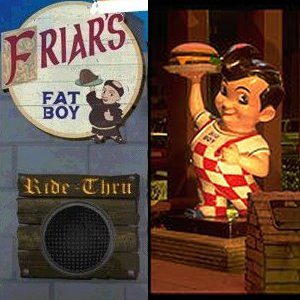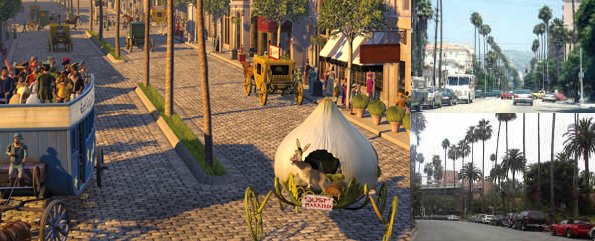 1. Burger King: In Far Far Away, it was a Burger Prince.
2. Burger King: Prince Charming orders a Medieval Meal, there's a Burger King-style crown that comes in the meal box.
3. Starbucks: Too many Farbucks.
4. Tower of London Records: Tower Records.
5. Versache: Versarchery.
6. Abercrombie & Fitch: Abercrombie and Witch.
7. Old Navy: Old Navery.
8. Gap Kids: Gap Queen.
9. Bob's Big Boy: Friar's Fat Boy.
10. Barney's New York: Barney's Old York.
11. Banana Republic: Banana Kingdom.
12. Sacks Fifth Avenue: Saxxon Fifth Avenue.
13. Stretch Limos: Become stretch carriages. Oversized horse-drawn vehicles that allows the celebrity set in Far Far Away to always arrive in style.
14. Baskin Robins: Baskin Robbinhood 31 Flavors.
15. Hollywood: Far Far Away was obviously based on Hollywood, California with rich and famous houses, palm trees, and even a huge sign over a mountain.
16. Maps to the Stars Homes - In the world of "Shrek 2," you can buy a map to the Fairy Tale Stars Homes. Which will give you exact directions to where Cinderella & Rapunzel's mansions are located.
17. Paramount Studios lot: The entrance to Far Far Away closely resembles this place's entrance.
18. Aaron Spelling's house: The placement of Fiona's parents house is the same placement as the house of Aaron Spelling's house in Beverly Hills.
19. Beverly Hills Sign: Dreamworks Animation actually had to ask Beverly Hills for its permission to spoof that city's all-too-familiar shield shaped sign. Which is why "Shrek 2" actually features an end credit that reads: "The BEVERLY HILLS SHIELF DESIGN is a registered trademark of the City of Beverly Hills."
20. Hollywood Bowl: Look for this historic piece of Southern California architecture to pop up in the background of the Fairy Godmother's big musical number in the Royal Ball sequence.